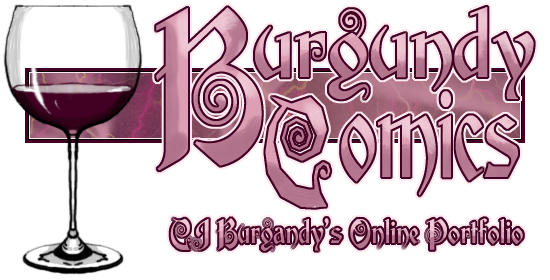 Comics on this site


A fantasy tale about a warrior named Velma, her party known as the Bulldaggers and their adventure to save Princess Marie from the Demon Queen Umnia.

Coming Soon
Modern tale of greek mythology on what happens to your soul when you've died.

Updated! Up to May of 2004 now uploaded
The poorly drawn adventures of CJ Burgandy. Totally not based on real life at all.
no, seriously, it's FICTION!



Random comics

Bob Powers vs the Fem Bots.
Just a small goofy comic about if my friends were in Austin Powers. I think it was done around 04? Can't remember. Too Long ago. It's why the art is so ugly. The Fembots are some of my friends from Comic Genesis, Komiyan, Robin Pierce, BEC, Sortelli and Pimpette. Mercury Hat, myself, Claude, Soap and KittyKat Black (also all from Comic Genesis) make an appearence.



Cooking Mama (with Mama Burgandy)
Short and Silly story on why my mom and I are not the stars of Cooking Mama



Guest/Fan Comics
Darken Fan Comic
Komiyan asked her friends to make comics for her while she moved. I decided to make fun of her nit picky fans.



Comic style drawings and doodles

Friday Night Divas

Divas and friends from my favorite hangout, Mad Myrna's



Pokemon Dresses

Someday I will draw them all



Avatars

SAvatars I've drawn for myself, and a couple for Soap, Keon and Kisai.




Animation

not a whole lot here yet.

The Youtube embedded version isn't as good as the original, which can be downloaded Here:
Caramell Dansen WMV File
And yes, it's spelled wrong in the video. I am too lazy to change it now.


Fan/Gift Art
To see Fan/Gift art people have sent me, head over to the Giftart Section